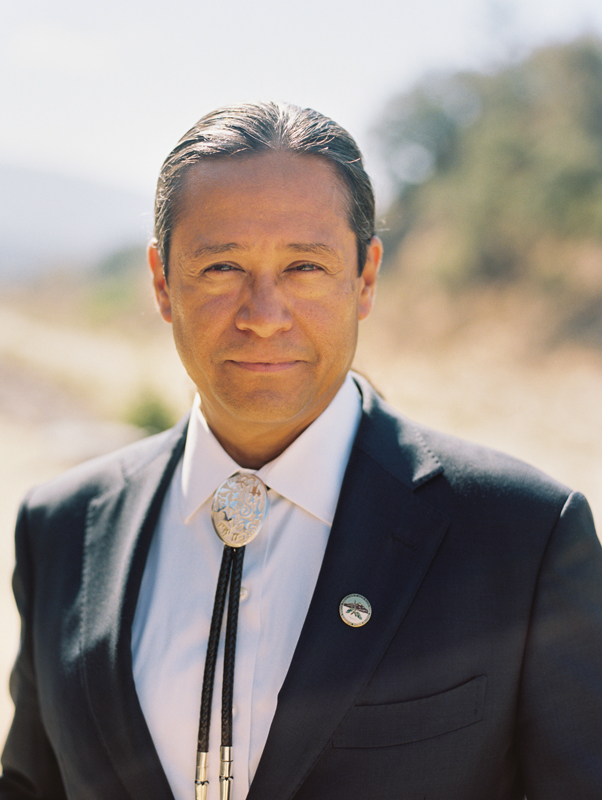 CONTACT INFORMATION:
To reach Tribal Chairman,
Mark Macarro
Please contact his Executive Assistant,
Emily Preston
Email:
This email address is being protected from spambots. You need JavaScript enabled to view it.
---
Mark Macarro, is the duly elected Tribal Chairman of the Pechanga Band of Luiseño Indians in southern California.
Macarro's vision for the Pechanga people is to see the Band strengthen its political self-determination and economic self-sufficiency by developing a diversified economy for the Pechanga Band while maintaining its distinct and unique cultural identity.
Chairman Macarro was first elected to the Pechanga Tribal Council in 1992. Mark has served as the Tribal Chairman since 1995; 2015 marks his 20th consecutive year as Tribal Chairman.

BOARDS
Native American Rights Fund (NARF) Chairman Macarro became a Board Member of the Native American Rights Fund in late 2010. Founded in 1970, the NARF is the oldest and largest nonprofit law firm dedicated to asserting and defending the rights of Indian tribes, organizations and individuals nationwide.
National Congress of American Indians A national leader, Chairman Macarro serves the National Congress of American Indians (NCAI) as the alternate Area Vice-President for the Pacific Region 2010-11. NCAI is the consummate policy-shaping entity in Indian Country on a wide range of issues including community development, federal appropriations, annual budgets, renewable energy, law enforcement and justice, and tribal-state relations.
National Indian Gaming Association Macarro also represents the Pacific Region on the board of directors for the National Indian Gaming Association (NIGA). This role affords a driver?s seat role in formulating national Indian Country positions on all matters of economic development including but not limited to gaming, commercial and institutional construction, tribal enterprise creation, joint-ventures and partnerships, and strategic planning; since 2003.
The Harvard Project on American Indian Economic Development Chairman Macarro serves as a member of the Board of Governors for The Harvard Project on American Indian Economic Development. The Harvard Project's goal: recognizing and promoting examples of good governance projects from within Indian Country serving as models for success in applied social and economic development; since 2007.
APPOINTMENTS, AWARDS
Electoral College Member, California, 2008 US Presidential Election; appointee of Art Torres, State Party Chairman
Platform Committee Member appointee, 2008 Democratic Party; appointee of Howard Dean, DNC Chairman
Delegate to the 2008 Democratic Convention, Denver, CO
Delegate to the 2004 Democratic Convention, Boston, MA
2008 Pathbreaker Award recipient, 20th Annual Indian Gaming Regulatory Act Symposium, Sandra Day O'Connor College of Law, Arizona State University
California Workforce Investment Board, Member from 2000-2003; appointee of Governor Gray Davis
Commemorative Seals Advisory Commission, Commissioner from 1999-2002; appointee of Speaker of the Assembly Robert Hertzberg, California Legislature; created bronze Native American Seal on Capitol grounds
Native American Sheriff Advisory Commission, Chairman from 2002-2005; appointee of Riverside County Sheriff Larry Smith
Riverside County Historical Commission, Commissioner from 1992-1996; appointee of Supervisor Bob Buster for District 1

Advocates for Indigenous California Language Survival, Charter Board Member, 1992-1994
Named by Capitol Weekly the 48th most politically powerful person in California politics
BACKGROUND
Chairman Macarro believes it is critical to maintain and cultivate the Pechanga tribal culture, language, and traditional life ways so that the Pechanga people can preserve their unique tribal identity. He believes that the best way to accomplish this is to create Luiseño speakers. An outcome of this vision is the Pechanga Chámmakilawish School, the pre-K-5 Reservation tribal elementary school established under Chairman Macarro's tenure. Fully accredited by WASC, the bilingual immersion school instructs children in both English and Luiseño through a multitude of core subjects.
Macarro is a traditional Luiseño singer, singing ceremonial Nukwáanish funeral songs at tribal wakes throughout southern California Indian reservations. He is a practitioner of Cham'téela, the Luiseño native language. He was also an apprentice bird singer to the late Robert Levi, an elder of the Torres-Martinez Reservation; having learned hundreds of Levi's birdsongs.
Macarro served as program manager for the library and museum of the Rincon Reservation from 1992 through 1995, as the director of youth education at Soboba Reservation's Noli School from 1990 through 1992, and began his career in Indian country as a grants/contracts administrator for the Pechanga Reservation in 1988. Macarro also served as a California state credentialed substitute teacher for grades 7-12 in the Riverside County Schools system, the San Jacinto Unified School District, the Colton Joint Unified School District, and Riverside City School District.
Macarro has a Bachelor of Arts degree in Political Science from the University of California, Santa Barbara.
Macarro grew-up in Colton, California. Chairman Macarro's father, the late Leslie Macarro, was a Pechanga tribal member and a correctional peace officer killed in the line of duty in May of 1988 while working for the California Youth Authority. Mark's great-grandfather, Juan Macarro (1851-1920) served as tribal chairman (formerly called captain) for the Pechanga Band during the first decade of the 1900's and was also a Nukwáanish singer.