Language Revitalization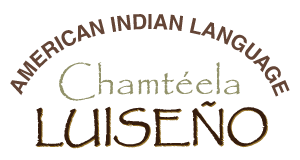 Every Pechanga tribal member shares a vision for the survival of our cultural spirit and the values and traditions through which it survives. Through our language we experience, teach, and live our way.
Connecting Us to Our Story
The revitalization of the Pechanga language (cham'teela), Luiseño, is part of a larger movement to retain our cultural strengths in the face historical struggles and modern technology. Our language contains our worldview and soul of our people. Complexity of cultural practice, tribal and familial relations, unique and intangible human resources and expressions are all reflected within.
The erosion of our language signals the erosion of accumulated knowledge of culture, spiritual practice, medicinal knowledge, custom, and history. Policy, and public and private schools have, at times knowingly, at times unwittingly, stripped language from our children— and thus their sense of balanced self-awareness. The revitalization of our language brings traditional balance to our continuing educational work and reestablishes critical elements to our culture.
Finding Our Voice Again
Culturally significant, academically sound, and socially appropriate education for Native American children is possible. With guidance and support from elders, and the helping hand of dedicated teams and technology, the Pechanga Tribe is teaching our children our language, songs, stories and traditions.