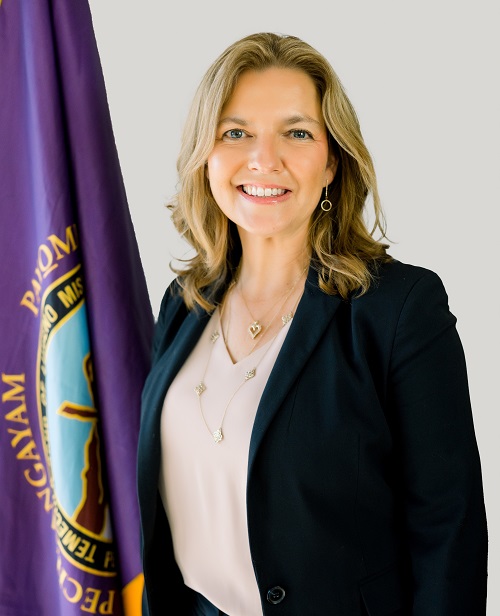 To Reach Tribal Treasurer Amy Minniear
Email:
This email address is being protected from spambots. You need JavaScript enabled to view it.
Tribal Treasurer Amy Minniear serves the Pechanga Band of Indians as the recently appointed Tribal Treasurer, the highest financial officer of the Band. Appointed by the Tribal Council and ratified by the General Membership in March 2022, Treasurer Minniear ensures the integrity of the financial management for all Tribal entities. She is responsible for establishing efficient, effective, and proper fiscal management practices and implementation across the Band. Financial transparency, accountability, and sustainability are Treasurer Minniear's core values. She strongly believes in these concepts and strives to allocate financial resources in alignment with the Band's strategic long-term objectives.
Since her appointment, Treasurer Minniear utilizes her passion for education by organizing and executing a series of financial literacy courses, both in-person and digitally, for tribal members. With Tribal Council support, she believes consistent, informative financial education will have short-term and beneficial indefinite effects in the community. The curriculum is designed to empower and improve the financial health of young adults as they graduate, instilling practical knowledge to encourage informed financial choices and behaviors. She believes the Pechanga Tribal membership is the greatest asset of the Band and it is her mission to support them in financial education at all ages.
Treasurer Minniear continues a long-standing family tradition of public service to the Pechanga Band of Indians. Her grandmother, Germaine Arenas, served as chairwoman of the Pechanga Cultural Resources Committee and her mother, Christine Luker, served as the Pechanga Tribal Treasurer for 10 years. Her brother Marc Luker currently serves on the Tribal Council. Her uncles, Dan Pico and Gabriel Pico, served as Tribal Chairman for the Pechanga Band; and her uncle Norman Pico served as Tribal Gaming Commissioner for Pechanga.
Prior to her appointment, Treasurer Minniear's professional experiences includes ownership and management of Bricks 4 Kids franchise, an afterschool summer educational program. In her leadership role, she taught engineering and STEM classes, specializing in teaching special needs students and bridging girls to the sciences. Prior, Treasurer Minniear served the Tribe from 2009 – 2012 as a member of the Pechanga Constitution and Bylaws Committee. Additionally, Treasurer Minniear served on the Board of Directors of the Pechanga Development Corporation (PDC) from 2004 – 2009, developing new marketing strategies for the Pechanga Resort and Casino in a changing economy. During her tenure on the Board, she initiated the Pechanga Tribal Internship Program (PIAP) that offers internship opportunities for tribal members. PIAP continues to reach youth by connecting young professionals to employment opportunities. Treasurer Minniear has a Bachelor of Science in Industrial Engineering from California Polytechnic State University and a Masters of Business Administration from the University of Redlands, California.
Treasurer Minniear believes in the importance of family and community relationships and that the highest good is making a positive impact on society. Her focus on the upbringing of her four children and supporting the Pechanga community stems from her commitment to family values, uplifting the Tribe, and leading by example.